Bellingham Shines Again: A Stellar Start with Real Madrid Continues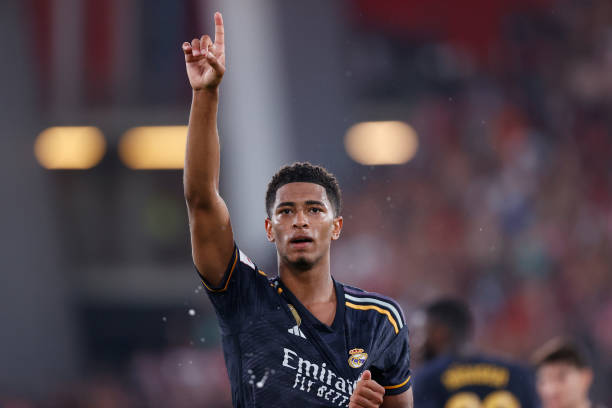 Jude Bellingham continues to illuminate the football stage, enthralling Real Madrid fans with a remarkable display in his second consecutive Spanish league victory. The young midfielder's remarkable contributions propelled Madrid to a triumphant 3-1 comeback against Almeria, reaffirming his status as a pivotal player in the team's lineup.
Bellingham's dual success story began with a sensational debut goal in the season opener against Athletic Bilbao. Undeterred by the grandeur of the Santiago Bernabéu, he took his dazzling form on the road to Almeria, securing a brace and an assist in the thrilling victory.
With an air of confidence, Bellingham spoke of his growth, stating, "I'm 10 times better than I was last season. I feel really comfortable with these players and I'm learning every day. The level here is so high and I'm like a sponge, taking in everything my teammates tell me. That's why I've started the season so well."
The 20-year-old's instrumental presence on the field has been a revelation, as he seamlessly adapts to his role while sporting the iconic No. 5 jersey, a symbol of the great Zinedine Zidane. Bellingham's immediate impact has not escaped the discerning eyes of Carlo Ancelotti, who attributes his remarkable assimilation to a combination of maturity, personality, and invaluable experience gained during his tenure in Germany.
Ancelotti praised, "His maturity, his personality and the three years he played in Germany are the reasons why he is adapting so well to our league and to our style."
Bellingham's journey from the Bundesliga to the Bernabéu has been a dynamic one, and his evolution as a goal scorer is an unforeseen yet delightful development. With three goals in just two appearances, he has shattered expectations and set a high bar for his future performances.
The match against Almeria witnessed the seamless collaboration between Bellingham and Vinícius Júnior, culminating in a third goal for Madrid. Vinícius, who received a pass from Bellingham, showcased his brilliance with a beautifully executed shot that found the net.
As Bellingham surpasses the stellar goal tally he achieved in the Bundesliga last season, the fervor among Real Madrid supporters is palpable. The spotlight now shines on his upcoming matches, with the hope that he will continue to shine and uplift the team, especially in the absence of key players like Éder Militão and Thibaut Courtois.
Bellingham's electrifying journey shows no signs of slowing down. The young talent has demonstrated not only his adaptability but also his innate ability to influence the game at the highest level. As the Madrid faithful eagerly anticipate his home debut at the Santiago Bernabéu on September 2, the stage is set for Bellingham to further etch his name into the annals of Real Madrid's storied history. But before that, another away game awaits, as Madrid faces Celta Vigo on Friday, with the fervor of their emerging star lighting the way.
Image Source:
Embed from Getty Images