Emerging Stars and Shifting Strategies: Real Madrid's Post-Benzema Evolution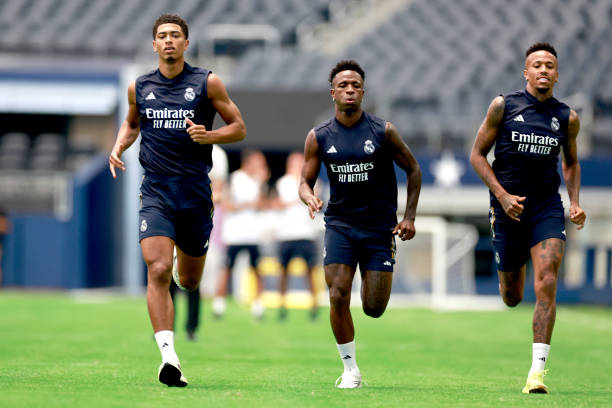 As the summer winds bring change to Real Madrid, the echoes of Karim Benzema's brilliance still reverberate through the Bernabéu. Yet, the time has come for Los Blancos to chart a new course, to redefine their attack and seek fresh avenues of glory. With Carlo Ancelotti at the helm, the stage is set for a transformation that promises a different, more dynamic Real Madrid in the upcoming season
A Shift in the Wind:
The realm of football is never static, and Real Madrid is embracing this eternal truth. While the immediate replacement for Benzema may raise eyebrows—enter 33-year-old Joselu on loan from Espanyol—the bigger picture reveals a seismic shift in strategy. Ancelotti's vision encompasses more fluidity, more moving parts in attack, and a system that will demand versatility from every player wearing the white jersey.
Bellingham's Spark in the Diamond:
A diamond formation is set to grace the Bernabéu turf, and at its tip will stand the promising young talent, Jude Bellingham. This English midfielder, fresh from a spectacular season with Borussia Dortmund, is set to ascend to new heights as he takes on a pivotal role in Ancelotti's revamped squad. With his goal tally soaring from six to 14 in the blink of an eye, Bellingham's knack for finding the back of the net is poised to be a driving force behind Real Madrid's offensive charge.
Vinícius Júnior: A Shifting Role:
Another name poised to reshape Real Madrid's attacking landscape is Vinícius Júnior. No longer confined to the flanks, Vinícius will be tasked with drifting inside, adopting a role as a second striker rather than a traditional winger. This tactical evolution promises to unlock new dimensions of his skill set, offering him the opportunity to leave an indelible mark on the scoreboard.
A Load Shared: Goals Beyond Benzema:
Benzema's departure signifies not only a void in goalscoring but also a shift in Madrid's attacking nucleus. The trio of Benzema, Vinícius, and Rodrygo wove an intricate web of interplay, with Benzema at its heart. Now, as the French striker moves on, Vinícius and Rodrygo must shoulder a greater share of the goalscoring responsibility. The emerging partnership of Bellingham, with his goal-laden boots, adds another dimension to this new attacking equation.
Navigating the Uncharted:
Real Madrid's voyage into uncharted territory will be an experiment in adaptation and innovation. The season ahead hinges on how swiftly the team gels and redefines its identity sans Benzema. The midfield's timing, Vinícius' spatial awareness, and Bellingham's predatory instincts will all intertwine to sculpt Real Madrid's new attacking nucleus.
As the sun sets on Benzema's illustrious chapter, a new dawn rises over the Bernabéu. Carlo Ancelotti's tactical overhaul promises a more dynamic, multifaceted Real Madrid—a team driven by the synergy of its emerging stars. The onus falls upon Vinícius, Rodrygo, and Bellingham to embrace their roles, weave their magic, and propel Los Blancos to new heights. While the adaptation may be arduous, the promise of innovation and evolution has never burned brighter in the halls of the Spanish giants.
Image Source:
Embed from Getty Images