Injury Hurdles and Fresh Faces: Real Madrid's Thrilling La Liga Opener Awaits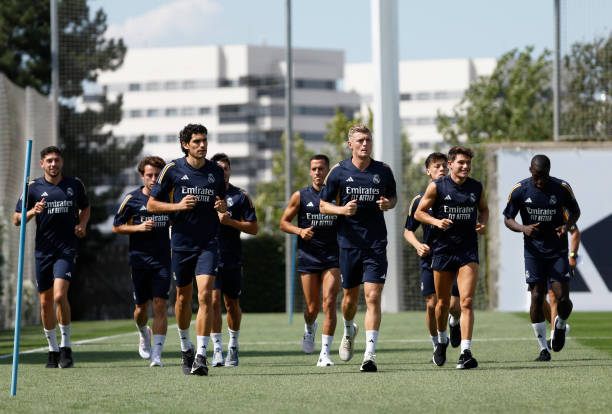 The anticipation is palpable as Real Madrid gears up for a scintillating La Liga opener against Athletic Club this weekend. As Los Blancos prepare to venture into the cauldron of the Nuevo San Mames, the stage is set for an enthralling clash that promises both drama and excitement. With key players sidelined due to injury and new faces ready to make their debuts, the curtain is set to rise on a captivating showdown.
Debut Anticipation:
The spotlight shines on Real Madrid's potential debutants, with eager eyes turning to the likes of Jude Bellingham and Fran Garcia. These budding talents could don the iconic white jersey for the first time, injecting fresh energy into the squad. Joselu Mato and Brahim Diaz also stand on the cusp of making their long-awaited returns, igniting hopes of a dynamic revival.
Injury Setbacks:
While dreams of debut brilliance abound, unfortunate injury setbacks cast shadows over Real Madrid's lineup. Arda Guler, the promising Turkish prodigy, finds himself sidelined by a persistent meniscus issue, casting doubt on his August availability. Similarly, Ferland Mendy and Dani Ceballos are grappling with muscle problems that have put their appearances in jeopardy. As training commenced, Marca reported that these three players were the notable absences, raising concerns for the upcoming clash.
Valverde's Conundrum:
Ernesto Valverde, at the helm of Athletic Club, faces his own tactical quandaries ahead of the showdown. The Basque side's ambitions hinge on the fitness of key members, with Yeray Alvarez, Dani Garcia, and Yuri Berchiche nursing minor injuries. The trio's absence from the recent friendly draw with Manchester United (1-1) has left Valverde pondering his options as the clock ticks down to kickoff.
Unforgettable Memories:
The prospect of an explosive opener at the Nuevo San Mames evokes memories of a thunderous clash from yesteryears. A couple of seasons ago, Barcelona ignited the La Liga campaign in the same stadium, treating fans to a spellbinding spectacle. The showdown saw Memphis Depay's equalizer in response to Inigo Martinez's opener, setting the stage for a riveting season that unfolded.
As the La Liga curtain rises once again, Real Madrid and Athletic Club brace for an adrenaline-charged encounter at the Nuevo San Mames. While injuries have cast a shadow over some stars and debutants prepare to grace the stage, the electric atmosphere promises an unforgettable spectacle. The echoes of past clashes reverberate, hinting at a new chapter in the historic rivalry. The stage is set, the stakes are high, and football enthusiasts around the world are in for a treat as the season kicks off in style
Image Source:
Embed from Getty Images