Kepa Arrizabalaga Joins Real Madrid on Loan: Strengthening Our Goalkeeping Ranks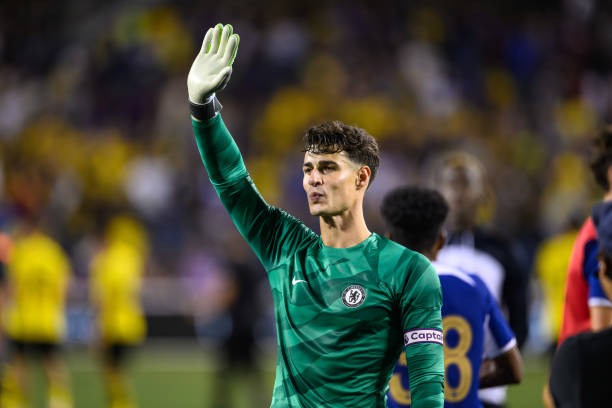 In a stunning twist of events, Real Madrid has swiftly moved to bolster our goalkeeping prowess by securing Kepa Arrizabalaga on a season-long loan from Chelsea. This strategic maneuver comes in response to the unfortunate long-term injury of our custodian Thibaut Courtois. As we prepare to unveil our latest signing, let's delve into the details of this impactful transfer and its implications for our club.
Real Madrid's Tactical Response:
Real Madrid's commitment to maintaining our competitive edge is evident in our prompt acquisition of Kepa Arrizabalaga. With Courtois sidelined due to injury, securing a seasoned goalkeeper became paramount. The rapid execution of this deal showcases our club's agility and determination to thrive even in the face of unforeseen challenges. While the loan agreement does not include an option for a permanent transfer, Kepa's arrival significantly fortifies our goalkeeping resources.
Unveiling a New Presence:
Our anticipation mounts as we look forward to introducing Kepa Arrizabalaga to the media on Tuesday afternoon. The Santiago Bernabeu will witness the official presentation of our new signing, marking the commencement of an exciting chapter in our storied history. Kepa's arrival presents an opportunity for him to showcase his skills under the iconic white jersey of Real Madrid.
A Warm Welcome from Real Madrid:
Real Madrid extends a heartfelt welcome to Kepa Arrizabalaga as he joins our ranks for the upcoming season. We acknowledge his impressive tenure as Chelsea's longest-serving player and eagerly anticipate his collaboration with former Chelsea head coach Carlo Ancelotti. This reunion promises a harmonious partnership that holds the potential to elevate Kepa's performance to new heights.
Kepa's Role in Our Goalkeeping Resurgence:
At 28 years old, Kepa Arrizabalaga brings a wealth of experience to our goalkeeping ensemble. Mauricio Pochettino's initial plan to feature Kepa as Chelsea's first-choice goalkeeper highlights his significance on the field. Our accelerated negotiations paved the way for Kepa's transition to the Santiago Bernabeu, signaling an exciting shift in his career trajectory.
Exploring Future Prospects:
Real Madrid's commitment to excellence is further underscored by our pursuit of exceptional talent. As we bid farewell to Kepa, Chelsea's hunt for a replacement is in full swing, with speculations surrounding potential recruits. While the future goalkeeper remains uncertain, Real Madrid remains dedicated to maintaining a robust and resilient lineup.
Kepa Arrizabalaga's loan move to Real Madrid adds an element of unpredictability and excitement to our football journey. As we eagerly anticipate his unveiling and subsequent contributions, Real Madrid's goalkeeping saga continues to captivate fans worldwide. The swift response to adversity and the pursuit of excellence exemplify our club's unwavering commitment to success.
Image Source:
Embed from Getty Images