Real Madrid's Pursuit of Kepa Arrizabalaga: A Potential Game-Changer in Goalkeeping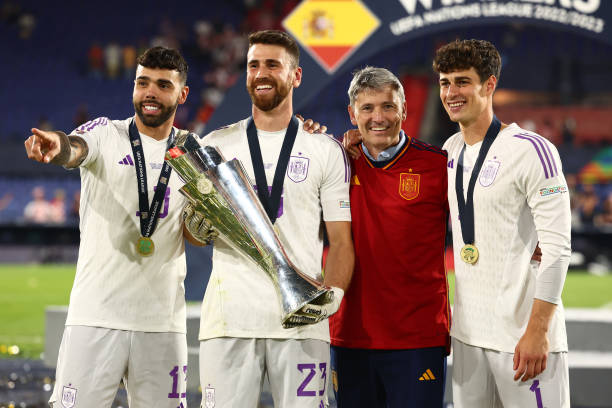 In an unexpected turn of events, Real Madrid is actively engaged in negotiations to secure the services of Spanish international goalkeeper Kepa Arrizabalaga on loan from Chelsea.
The La Liga giants find themselves in a tight spot due to a shocking injury to Thibaut Courtois on the brink of the new season. This predicament has prompted Real Madrid to scramble for a suitable replacement, with Andriy Lunin being the sole fit senior goalkeeper currently available to the team.
As the opening fixture against Athletic Bilbao looms on Saturday night, the 24-year-old Ukrainian international Andriy Lunin is set to assume the starting role in goal.
While several alternatives have been contemplated, including former Manchester United goalkeeper David de Gea and Sevilla's Moroccan international Yassine Bounou, it is Kepa Arrizabalaga, aged 28, who has emerged as Real Madrid's preferred choice.
Thibaut Courtois has been a stalwart presence for Real Madrid since his arrival from Chelsea in 2018, amassing an impressive 230 appearances for the club. His contributions have played a pivotal role in securing two La Liga titles and a Champions League triumph.
Chelsea, on the other hand, has been proactive in bolstering their goalkeeping options by acquiring Robert Sanchez from Brighton & Hove Albion earlier this summer. New manager Mauricio Pochettino has expressed anticipation for a fierce competition between Sanchez and Kepa for the coveted No. 1 position.
Kepa Arrizabalaga reclaimed his status as Chelsea's primary goalkeeper following an injury to Edouard Mendy last season. Despite the team's overall disappointing campaign, Kepa exhibited solidity in his performances, featuring in 39 matches.
In a notable transfer, Kepa Arrizabalaga joined Chelsea in 2018 for a world-record fee of £71 million for a goalkeeper. His tenure at the club saw fluctuations in his position, with the emergence of Edouard Mendy leading to a brief hiatus from the No. 1 role during Frank Lampard's managerial tenure. Mendy's subsequent move to Saudi Pro League side Al Ahli in June has repositioned Kepa within Chelsea's fold.
As negotiations unfold, the footballing world awaits the outcome of Real Madrid's pursuit of Kepa Arrizabalaga, a move that could significantly reshape the dynamics of the upcoming season.
Image Source:
Embed from Getty Images